At AMCApartments.com, searching for an apartment reaches a new level of convenience as you are able to browse through apartment listings from the comfort of your computer. AMCApartments.com makes rental searches easy and fast. AMCApartments.com enables renters to find their apartment by city, state, property name,floor plan and number of bedrooms. The site gives renters all the information needed to find your next apartment home.
Redmond Apartments at Nightingale!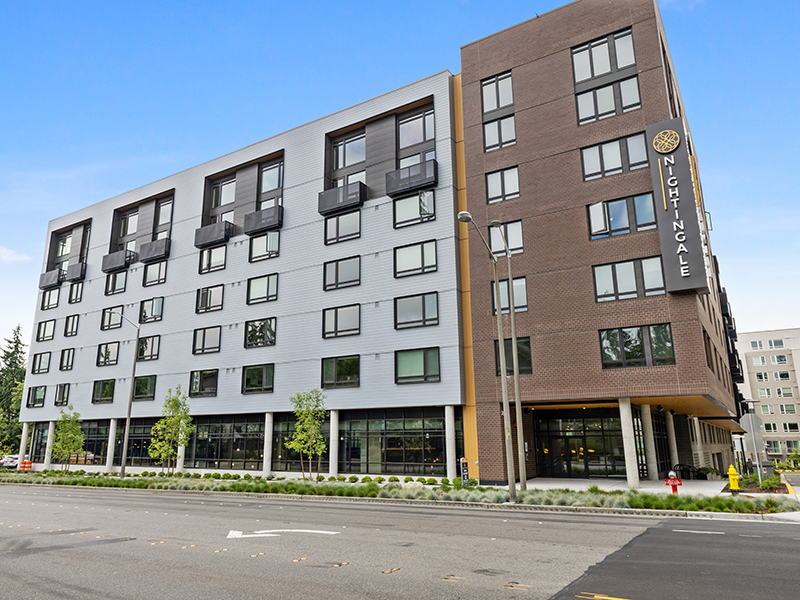 2651 156th Avenue Neast
Redmond, WA 98052
(P) (425) 836-6298
(F)
Office Hours
Mon - Fri: 09:00am - 06:00pm
Sat & Sun: 10:00am - 05:00pm
Call for Pricing
Rent:
Apartment
Unit Type:
Apartment Features:
Washer & Dryer
Walk-in Closets In Select Units
Oversized Soaking Tubs with Rainfall Showerheads
Luxury Modern Appliances
USB Wall Outlets
Diamond Quartz Countertops
Ceiling Fans and Heating in All Homes
Hardwood-Style Wood Flooring
Plush Carpeting in Bedrooms
Built in Wine Fridge in Select Homes
Community Features:
Bike Storage
Bocce Ball Court
EV Charging Station
State Of The Art Fitness Center
Parcel Lockers
Sky Lounge
Large Heated Spa
Outdoor Pavilion
Video Conference Room
Paw Spa
Key Fob System
Onsite Management & Maintenance
Pet Policy
Pet Friendly Call for Details
Property Description
Come home to Nightingale Apartments in Redmond, WA to discover the meaning of elegant living. Here at our Seattle apartments, you'll discover what makes King County stand out from the rest. Our pet-friendly apartments in Redmond feature studio, 1, and 2 bedroom units for you to choose what best fits your lifestyle. Enjoy the convenience of our luxury apartment features, such as stainless steel kitchen appliances, in-home laundry, soaking tubs, walk-in closets, private balconies/patios, and spectacular views. Our luxury community amenities give you everything you need to live comfortably—including a resident Sky Lounge, private conference rooms, fitness center, pet spa, sports courts, fire pits, bike storage, and much more. Living at our apartments for rent in Redmond place you just moments away from the SR-520, giving you quick access to Bellevue, Seattle, and beyond. Book your tour of Nightingale Apartments today and discover what it means to truly live well!
Floor Plan
Bed
Bath
Sq. Feet
Price
Deposit
Term
Studio Loft 1
0
1
598
Call for Details
OAC
9-12
Studio Loft 2
0
1
611
Call for Details
OAC
9-12
Studio Loft 3
0
1
648
Call for Details
OAC
9-12
Studio Loft 4
0
1
653
Call for Details
OAC
9-12
Studio Loft 5
0
1
694
Call for Details
OAC
9-12
Studio Loft 6
0
1
751
Call for Details
OAC
9-12
Studio Loft 7
0
1
783
Call for Details
OAC
9-12
Studio Loft 8
0
1.5
830
Call for Details
OAC
9-12
Studio Loft 9
0
1.5
876
Call for Details
OAC
9-12
Studio Loft 10
0
1.5
887
Call for Details
OAC
9-12
Studio Loft 11
0
1.5
896
Call for Details
OAC
9-12
Studio Loft 12
0
1.5
902
Call for Details
OAC
9-12
Studio Den Loft 14
0
1.5
956
Call for Details
OAC
9-12
Open One Bed 1
1
1
458
Call for Details
OAC
9-12
Open One Bed 2
1
1
475
Call for Details
OAC
9-12
Open One Bed 3
1
1
475
Call for Details
OAC
9-12
Open One Bed 4
1
1
494
Call for Details
OAC
9-12
Open One Bed 5
1
1
504
Call for Details
OAC
9-12
Open One Bed 6
1
1
507
Call for Details
OAC
9-12
Open One Bed 7
1
1
509
Call for Details
OAC
9-12
Open One Bed 8
1
1
512
Call for Details
OAC
9-12
Open One Bed 9
1
1
547
Call for Details
OAC
9-12
Open One Bed 10
1
1
602
Call for Details
OAC
9-12
One Bed 11
1
1
634
Call for Details
Call for Details
9-12
One Bed 12
1
1
651
Call for Details
OAC
9-12
One Bed 13
1
1
678
Call for Details
OAC
9-12
One Bed 14
1
1
689
Call for Details
OAC
9-12
One Bed 15
1
1
696
Call for Details
OAC
9-12
One Bed 16
1
1
702
Call for Details
OAC
9-12
One Bed 17
1
1
702
Call for Details
OAC
9-12
One Bed 18
1
1
702
Call for Details
OAC
9-12
One Bed 19
1
1
702
Call for Details
OAC
9-12
One Bed 20
1
1
703
Call for Details
OAC
9-12
One Bed 21
1
1
704
Call for Details
OAC
9-12
One Bed 22
1
1
706
Call for Details
OAC
9-12
One Bed 23
1
1
752
Call for Details
OAC
9-12
One Bed Den 24
1
1
840
Call for Details
OAC
9-12
One Bed Den 25
1
1
890
Call for Details
OAC
9-12
One Bed Den 26
1
1
895
Call for Details
OAC
9-12
One Bed Den 27
1
1.5
1064
Call for Details
OAC
9-12
Open One Bed Den 28
1
1.5
1064
Call for Details
OAC
9-12
One Bed Den 27-01
1
2
Call for Details
Call for Details
OAC
9-12
One Bed Den Penthouse 29
1
2
1176
Call for Details
OAC
9-12
Two Bed One Bath 1
2
1
830
Call for Details
OAC
9-12
Two Bed One Bath 2
2
1
830
Call for Details
OAC
9-12
Two Bed Two Bath 3
2
2
927
Call for Details
OAC
9-12
Two Bed Two Bath 4
2
2
936
Call for Details
OAC
9-12
Two Bed Two Bath 5
2
2
954
Call for Details
OAC
9-12
Two Bed Two Bath 6
2
2
1009
Call for Details
OAC
9-12
Two Bed Two Bath 7
2
2
1083
Call for Details
OAC
9-12
Two Bed Two Bath 8
2
2
1090
Call for Details
OAC
9-12
Two Bed Penthouse 9
2
1.5
1178
Call for Details
OAC
9-12
Two Bed Penthouse 10
2
2
1251
Call for Details
OAC
9-12
Two Bed Penthouse 11
2
2
1342
Call for Details
OAC
9-12